Rachel's story
Rachel first started paddling to prove to herself she could "do hard things". It wasn't long before she joined Paddle Across the Bay in honour of her late husband Paul.
"When I became a sole parent after losing Paul, I had to trust my intuition and I've had to be brave," Rachel said.
"Since discovering paddling, it's become such a blessing. All I need to recalibrate is a board, paddle, water and sunshine. It's one of my always happy places along my grief journey."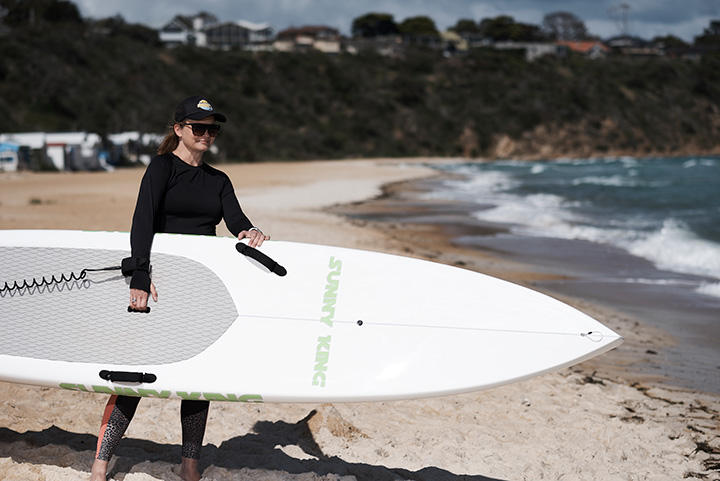 One thing Rachel didn't expect when signing up for Paddle Across the Bay was the amazing support network available to those touched by cancer. This year she hopes to extend that out to as many others as possible.
"The goal this year is to promote the sport through regular, open and social paddles leading up to the event, and together showing solidarity for all touched by cancer in a BIG way."
Now in her fourth year participating in Paddle Across the Bay, Rachel has a new purpose. The mother of two hopes to raise more funds than ever before.
"Last year our team of 12 raised just over $13,000," said Rachel proudly. "I am looking forward to growing our paddling community and the fundraising total for my team – paddle4ourpeople."
She knows that fundraising is a collective effort. With hundreds of paddlers coming together to raise life-saving dollars, Rachel feels the combined efforts can go such a long way.
"A small amount raised by every paddler will have a massive impact. The bigger the team, the greater the reach and the bigger the hug."
The Mornington based teacher feels a strong sense of purpose since becoming connected to this community of people who paddle for a cancer free future.
"Being able to help others navigate their grief journey has become key to my own personal healing. As someone once told me, we're still here for a reason."
Not only that, Rachel is also eager to sign up to Paddle Across the Bay each year because of the amazing experience.
"The event atmosphere is palpable and draws me back year after year."
Sign up for Paddle Across the Bay and join a passionate community of people who want to make a difference.